What is Co-Branding?
Can you recall a time that two brands you love collaborated on a product that you had to have? These collaborations are referred to as "co-branding," and they are a highly effective way to bring equity from two popular brands together to create a product or service that appeals to a wider audience.
We have seen numerous examples of successful (and unsuccessful) co-branding endeavors between businesses, clothing lines, musicians, and artists. In this post, we are going to dive into a few of these collaborations and talk about what made them successful (or unsuccessful).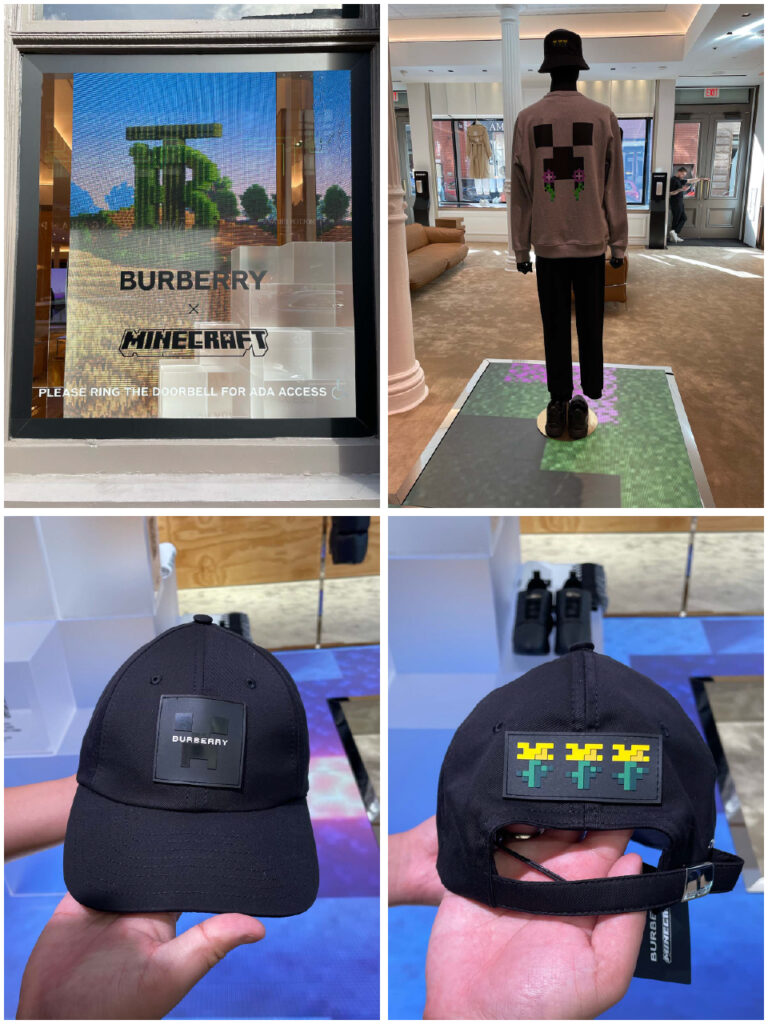 Burberry / Minecraft
One wouldn't expect there to be a large overlap between luxury retail shoppers and Minecraft players… but they exist. I live with one of them—and I may be a pinch guilty myself, but I exist in the Minecraft realm much more than I do the Burberry realm. Regardless, I had to see it for myself.
The merchandise collaboration was nice, but the real magic was in the environmental graphics and storefront display! The mannequins were placed in front of a room-wide digital display of the Burberry x Minecraft Adventure realm. Each merchandise collaboration was placed on a digital display that continued the scene from the backdrop.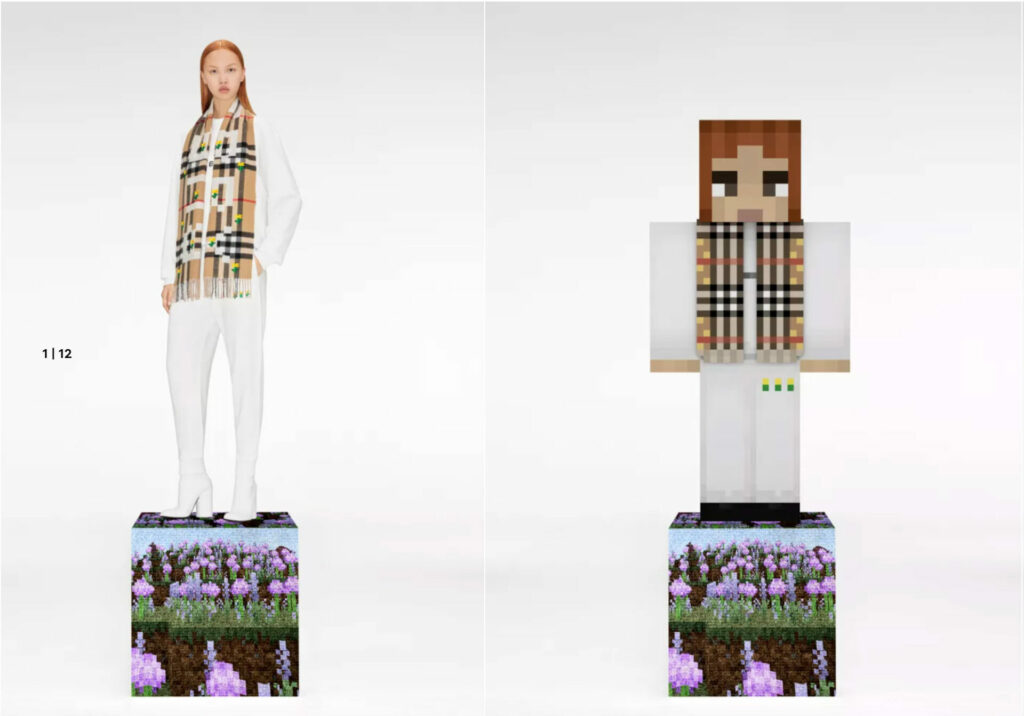 One aspect in which this brand collaboration truly excelled was the availability of the new designs as both real-world outfits and as skins for your Minecraft character. One can purchase the outfit at a participating store and download the matching skin for their Minecraft avatar to match!
I highly recommend checking out their official site to see videos of the realm, and their mashup runway: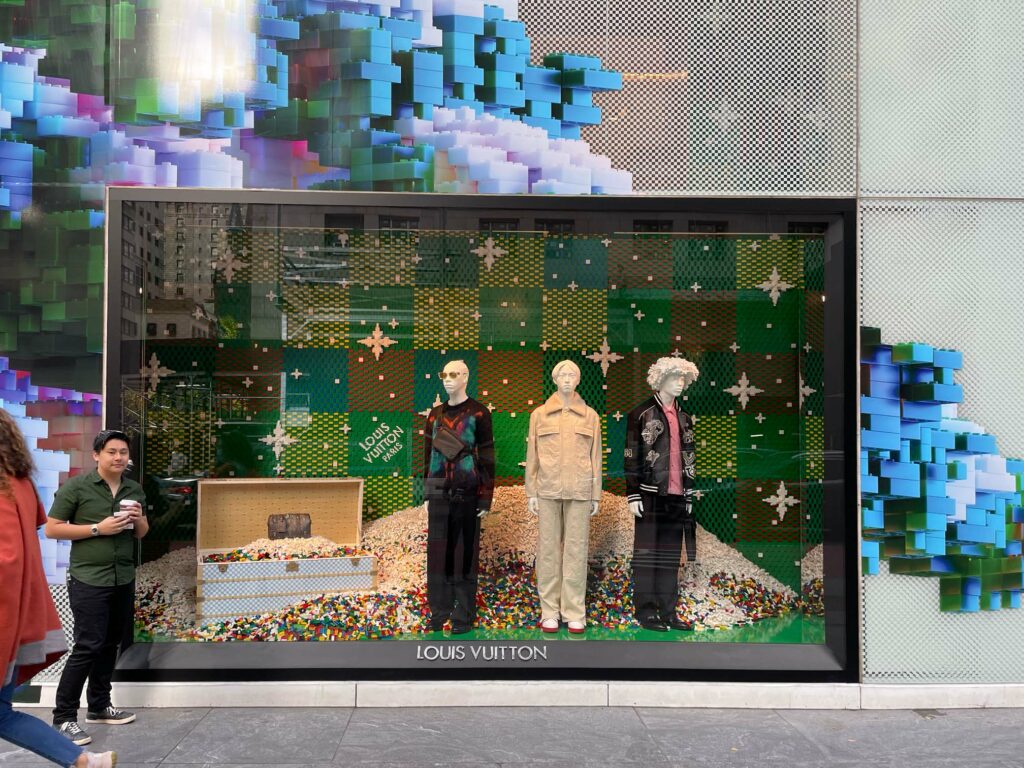 Louis Vuitton / Lego
Speaking of luxury retail brands collaborating with unsuspecting games and products, Lego collaborated with Louis Vuitton to create a holiday window display in New York City. While there was no official product created from this collaboration, the combination of two highly-recognized brands creates for a unique display that engages with those walking by.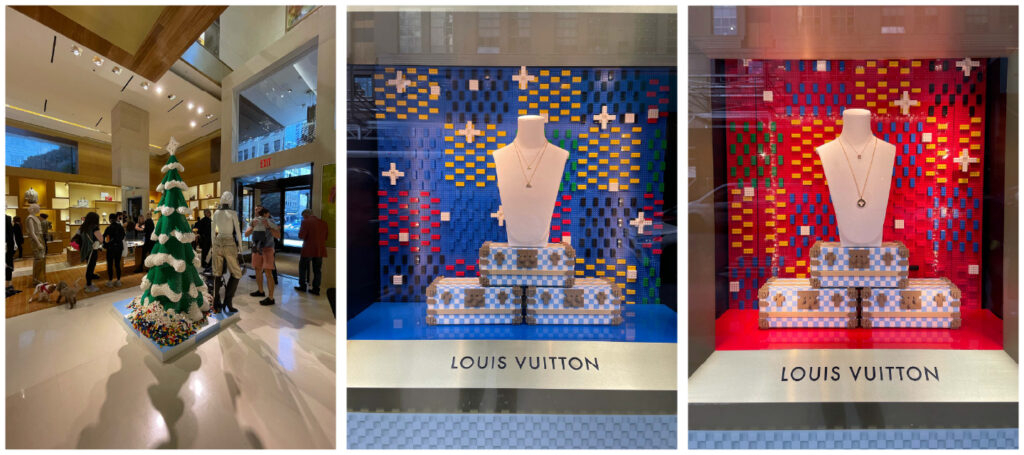 The displays consist of mannequins standing in winter-themed scenes constructed almost entirely from Lego. The jewelry displays sit on top of light-blue checkered chests, which could easily be mistaken for real chests from across the street. This is where the designers prove their skills—there is a larger, vinyl lego mural wrapping the storefront to set the stage for the smaller, individual displays.

In this particular case, it's hard to measure the collaboration's success since there are no product sales directly associated with the display. It did, however, catch my attention from across the street and inspire me to go inside to see more!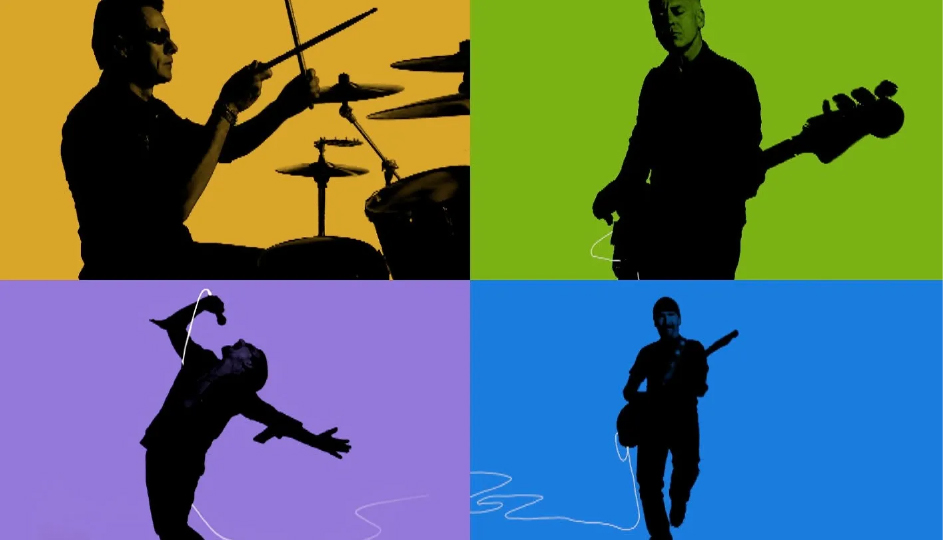 U2 / Apple
If you were middle school-aged or older around 2004, you likely remember the iPod/iTunes commercial and then iPod U2 Edition that followed. Apple's collaboration with rock legends U2 to release an iPod was a strategic move by both parties to appeal to a wider audience. Apple had its sights set on influencing the future of the music industry using its new iTunes service, and U2 was rising back to superstar status after the release of experimental music that only received modest commercial success.
The collaboration was a major success. Apple and U2's co-branding campaign catapulted iTunes' popularity, and the iPod became the most popular portable music listening device on the market. Don't worry, this majorly benefited U2 as well, as they received three Grammy Awards for Vertigo, the single featured in the commercial.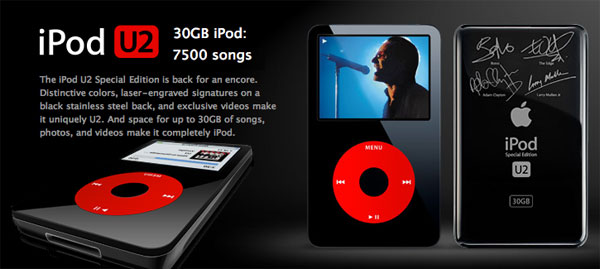 "U2 is one of the greatest bands in the world and we are floored to be working with them… We just wanted to make some innovative products together, and we hope U2 fans will love having their very own special edition iPod."
-Steve Jobs
With all of this success, they thought they'd try it again in 2014. But, unlike their first co-branding endeavor, this one resulted in a PR nightmare. It turned out, a decade later, Apple's users had shifted to a younger audience that viewed this stunt as an intrusion on their privacy rather than a generous gift. And although U2 succeeded at reaching a tremendous audience, any success was majorly overshadowed by controversy and angry iPhone users.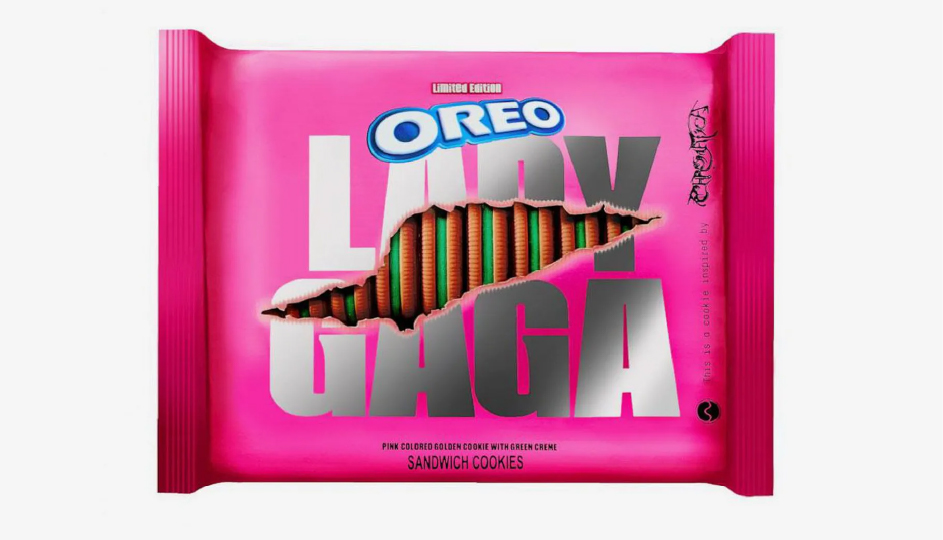 Lady Gaga / Oreo
Alongside the release of Chromatica, Lady Gaga collaborated with Oreo to create the one-of-a-kind Chromatica Oreo. Neon green icing, sandwiched between pink cookies, sold in a bright pink package was sure to turn heads in stores, as well as mobilize her fan base. The cookies were also imprinted with Chromatica graphics on one side, and the standard Oreo graphics on the other.

Similar to most other co-branding endeavors (besides Apple and U2), there is an element of randomness to this collaboration that proved to surprise and delight both Lady Gaga and Oreo fans alike. And while many of these co-branding instances seem to lack a practical explanation (besides financial benefit) they prove to be successful in tapping into the loyalty of another brand's audience to boost their own publicity.
And if you think this is a dumb idea, you can see the demand for these limited edition Oreos are circulating in online sales platforms for significantly more than they were sold for in stores.
Don't believe me? Here's the proof!
The Co-Branding Conclusion
There is a lot of benefit to starting a co-branding project with another company. All it requires is some degree of overlapping audience—or even two audiences with overlapping interests. Historically, co-branding has been a popular, and relatively low-risk collaboration with major benefits to both brands involved—when conducted properly, and the target audience is well-understood.
For a sample of a co-branding project in our own portfolio, check out Rising Creek 2 / Tutto Gelato.